Today consumers are becoming more focussed on where their garments are being made and the origin of the raw materials that have been used. Sooner or later the term GOTS certified will be seen on a hangtag of an organic garment and the natural question arises – what is GOTS?
"GOTS (Global Organic Textile Standard) certification is the leading worldwide standard for controlling all the conditions of how organic fibres are processed, including the environmental, manufacturing and workplace conditions, verified by independent auditors."
This means every step of production is checked to ensure that the essence of the organic fibre, such as cotton or wool, is not contaminated by another input during the Farm to Garment supply chain. This simple diagramme outlines the main processes involved in the production of a GOTS certified organic cotton knitted sweater.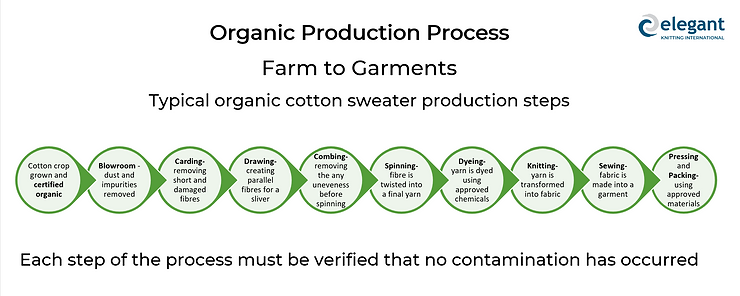 As can be seen, the raw cotton must go through a number of steps to become a garment, but GOTS certification goes much further.
The working conditions of the workers involved in every step must be independently inspected to make sure that safety and their welfare is fully protected. In a similar way, the environmental conditions must also be verified so that no aspect of the production process is doing harm to the environment.
When our company is inspected each year, the auditors scrutinised pay records, interviewed employees, required environmental test reports for any water discharge, ensured that all organic raw materials and fabrics were knitted and sewn in a 'green channel' protecting it from any cross contamination from other non-organic fibres. Even though we have been certified for many years, the inspection process is still as rigorous as the first inspection.
This is the benefit of GOTS certification in that it holistically protects every aspect of the organic raw material from the Farm through to the Garment. Without the certification of each process, then the true organic nature of the garment will be under question. It would be a travesty if all the care of producing organic cotton was then manufactured in a sweatshop where the welfare of the workers was at risk.
So next time you see a GOTS hang tag, you know that the garment has been manufactured in the most sustainable way possible to preserve the nature of the organic fibre.
The Standard requires that on the hang tag, the Inspection company is named – for Elegant it was ControlUnion, and the registered License number of the manufacturer. The consumer can then research the validity of the organic claim on the GOTS international database. It is a guarantee of true fashion sustainability.